Additional Pictures: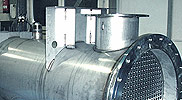 Heat exchangers for biogas plants, biogas treatment.
Improving efficiency, saving on operating costs.
THE for a wide range of different applications and media.
PHE of various designs.
Air-charged heat exchangers, air coolers, air heaters, gas heaters.
Optimised new design and recalculation of heat exchangers.
Make the most of savings potential by optimising whole model series.
Spare parts, repairs, service: fast, competent, worldwide.
Seminars, training, consultation
Seminars and consultation for HE design, inc. optimisation.
The following tubular heat exchangers (THE), sturdy and proven in industrial practice, are included in our range:
All the tubular heat exchangers we deliver are specially protected against vibration (vibration-free design)!