Products & services: Renewable energies
Our optimised heat exchangers for complex processes in biogas plants and biogas treatment plants, e.g. biogas purification, contribute to climate protection.
Heat exchangers for biogas plants, biogas treatment.
Improving efficiency, saving on operating costs.
THE for a wide range of different applications and media.
PHE of various designs.
Air-charged heat exchangers, air coolers, air heaters, gas heaters.
Optimised new design and recalculation of heat exchangers.
Make the most of savings potential by optimising whole model series.
Spare parts, repairs, service: fast, competent, worldwide.
Seminars, training, consultation
Seminars and consultation for HE design, inc. optimisation.
Additional Pictures: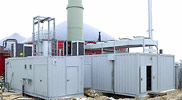 Renewable energies (biogas technology)
One preferred use for our heat exchangers is the field of biogas plants and biogas treatment plants (biogas purification). Plate heat exchangers, tubular heat exchangers and coolers are mainly used for this purpose.
Each individual heat exchanger is designed with the utmost precision and optimised to the respective operating data. This is guaranteed by our 10 years of heat exchanger design experience gained in cooperation with our manufacturing partners' engineers.
Biogas plant with integrated biogas treatment.
Our modern, tried-and-trusted design software even allows us to construct systems that can safely handle the complex heat and flow-related processes that occur during biogas treatment, such as mixture condensation or evaporation.
Thanks to their use in the field of biogas engineering, our heat exchangers make an indirect contribution to climate protection.