Products & services: Energy saving
Energy saving is important. Both now and for the future. With our optimised heat exchangers you increase your plant's efficiency, at the same time reducing operating costs.
Heat exchangers for biogas plants, biogas treatment.
Improving efficiency, saving on operating costs.
THE for a wide range of different applications and media.
PHE of various designs.
Air-charged heat exchangers, air coolers, air heaters, gas heaters.
Optimised new design and recalculation of heat exchangers.
Make the most of savings potential by optimising whole model series.
Spare parts, repairs, service: fast, competent, worldwide.
Seminars, training, consultation
Seminars and consultation for HE design, inc. optimisation.
Adittional pictures:




Energy saving
(energy efficiency, heat recovery, cost reduction)
Saving energy and consequently costs is becoming increasingly important - not only during periods of economic downturn - since it can be a major factor in increasing a company's competitiveness.
This is why we have positioned ourselves quite consciously in this field. The efficiency of machines and plants is improved following installation of our heat exchangers e.g. as waste-gas heat exchangers. This generates a competitive advantage for the plant manufacturer as well as helping the plant operator to save energy, e.g. natural gas, and thus costs.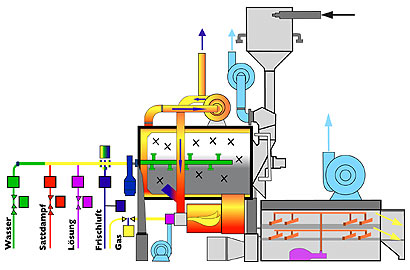 Thermal treatment plant (food technology).

This means that our heat exchangers also make an important contribution to reducing the greenhouse gas CO2 and thus to protecting the climate as a whole.